Visiting the International Circus Hall of Fame
The Circus Hall of Fame is located at 3076 E. Circus Lane, Peru, IN 46970.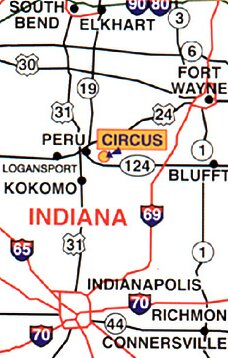 Directions from Rt. 31:
Go East on 31 Business.
Turn Right on Main St.
Turn Right on Broadway (Rt. 19).
Turn Left on Rt. 124
The INTERNATIONAL CIRCUS HALL of FAME is open from June 1 through August 31. Hours are: Tuesday, Thursday, and Saturday

10 am – 4 pm
The Museum is open by appointment other times.

May All Your Days be Circus Days!
Don't miss out on all the Fun and Excitement! Make your reservations today! For more information, call the Circus Hall of Fame at
(765) 472-7553, or EMAIL
The International Circus Hall of Fame is located at 3076 East Circus Lane, Peru, IN 46970, which is 3 miles southeast off St. Rt.124
                                                                                    For more information, EMAIL
From Indianapolis … 69 miles
From South Bend … 70 miles
From Ft. Wayne ….. 60 miles
Old St. Rt. 124, 3 miles east of Peru, Indiana