As Ernest Hemingway said, "The circus is the only ageless delight you can buy for money." Having said, the International Circus Hall of Fame invites you to share in the exciting journey of the American Circus spanning more than 200 years.
Your guides through the Circus Hall of Fame will be the "Circus Greats" – the performers, owners and the working men and women – who gave the American Circus its' life, its' laughter and its' tears.
We at the Circus Hall of Fame wish you a happy journey through the wonderful world of sawdust and spangles.
Gunther Gebel-Williams – Ringling Bros. and Barnum & Bailey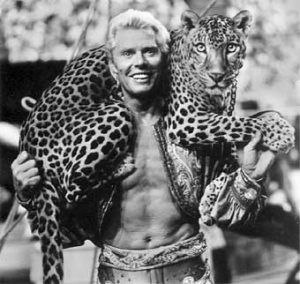 From the moment Gunther Gebel-Williams stepped into the giant steel cage at The Greatest Show On Earth, he was destined to change the face of the American circus forever. His totally unique style and uncanny rapport with his animal charges created a new category of circus performers. One of the few performers in any entertainment industry to become a legend in his own time, Gunther Gebel-Williams is universally known as The Greatest Wild Animal Trainer of All Time! From the age of 12 in WWI Germany, Gunther knew that the circus would be his life, learning the ins and outs of circus life at The Circus Williams. As a young animal trainer and performer, he became the rage of the European circus world, and in 1968, Ringling Bros. and Barnum & Bailey Circus owner Irvin Feld purchased the entire Circus Williams just to acquire the extraordinary talents and performing arts of Gunther. He made his American debut on January 6, 1969 in the world premiere of the 109th Edition of The Greatest Show On Earth at the circus' winter quarters in Venice, Florida.
In 1973 he was named "Outstanding Circus Performer of the Year" by the American Guild of Variety Artists. He was featured in a CBS-TV network special, Lord of the Rings, with Tony Curtis in 1977, plus a second nationally televised special in 1981, the NBC-TV production, My Father, the Circus King, a behind the scenes look at Gunther through the eyes of his son, Mark Oliver, now a featured performer in his own right, with Ringling Bros. and Barnum & Bailey. He has been a guest on numerous national television shows, including his memorable visit with Johnny Carson on The Tonight Show, where Gunther brought along a tiger for the show. But perhaps the most recognizable television appearance Gunther made was as a featured star of the noted American Express commercial, which pictured Gunther with his favorite leopard, Kenny, draped across his shoulders.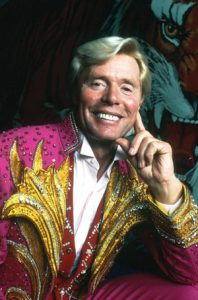 Gunther Gebel-Williams performed for more than a quarter of a century with The Greatest Show On Earth, where he presented horses, elephants, tigers, leopards, lions, cheetahs, pumas, panthers, mountain lions, a giraffe, dogs, goats, zebras and a rare white tiger. He entertained an estimated 200 million people live and in person, a record that will never be broken by any circus performer. In fact, during his entire American performing career, Gunther never missed one of more than 12,000 performances, an achievement honored by his induction into the Madison Square Garden's Walk of Fame in 1995.
Throughout his illustrious career, Gunther not only earned the respect and applause of circus fans and audiences everywhere, he captured the imagination of the American public with his dashing style and daring performance. But perhaps more importantly, Gunther demonstrated to all that humans and animals should work, live adn thrive together in harmony, and forever banishing the outdated notion of "man verses beast." Since Gunther Gebel-Williams, the American circus has eternally changed, and because of Gunther, we have all learned more about the beauty, majesty and sheet splendor of the world's most exotic creatures.
Unfortunately, Gunther passed away in 2001
Ben Wallace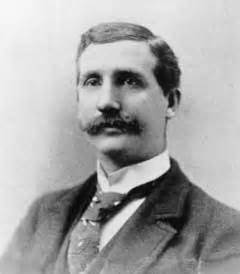 Ben Wallace was born on October 4, 1847, in Johnstown, PA. His grandfather fought in the battle of Tippecanoe near Lafayette, IN., under Gen. Harrison in 1812. The family moved to Rochester, IN., and then to Peru in 1863. His father became custodian of the county poor farm on Strawtown Pike south of Peru.
Ben started a livery stable in Peru at Miami and Second Streets. In 1881 he went to Michigan and returned with a contract to erect billboards for the Barnum Great London Circus and his livery stable became the overnight stop-over place for entertainers passing through Peru.
Wallace became partners with James Anderson and their first circus left Peru April 28, 1884. It was called the Wallace and Company's Great World Menagerie, Grand International Mardi Gras, Highway Holiday Hadalgo. It was a one-ring circus pulled by 85 mules.
In 1885 the circus traveled through Ohio and Pennsylvania and a large side-wheel steamer named Courier was purchased. It was renamed the B.E. Wallace and it was followed by four large barges and a steam calliope. The show went down the Ohio and Mississippi rivers to Texas. Wallace traded his horses for mules, wintered the mules in Peru and sold them in the spring at a large profit and bought good horses.
In 1886 Wallace had a 15-car railroad show and started the season with 22 cages, 120 horses, 4 camels, 4 tab wagons, a calliope and racing chariots. Anderson sold his interest in the show to Wallace in 1891 and Wallace bought his winter quarters east of Peru. Between 1892 and 1918 his shows had seven rail wrecks in which 26 men and many animals were killed.
In 1907 Wallace became owner of the Carl Hagenbeck Circus and the Hagenbeck-Wallace Circus was born. (Click on the image for a larger view). He suffered great financial loss in the 1913 Wabash River flood, losing 8 elephants, 21 lions and tigers and 8 performing horses. On July 1 that year he sold his circus while it was on the road. He left Peru in 1921 for Rochester, Minn. He died April 8 that year and was buried in Mt. Hope Cemetary in Peru.
Ben Wallace was elected to the Circus Hall of Fame in 1990.
Lillian Leitzel
1891 – 1931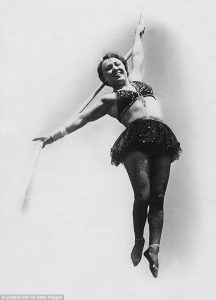 Lillian Leitzel, born in Breslau, Germany in 1891, was the descendant of several generations of circus performers. Her showmanship, her artistry, the circus management's Ballyhoo of her act, are without parallel. She commanded a pre-eminence never attained by another star in any circus on Earth. Leitzel performed on the Roman Rings and on a swivelled rope in the tent top. (Click on the image for a larger view).
Although seldom can a man chin himself even once with one hand, Lillian could chin herself 19 times with her left hand and 27 times with her right hand. The tiny performer, only 4 feet 9 inches tall, herself created her spellbounding two-part solo act that climated in a breathtaking feat of skill and endurance. For six minutes the elfin Leitzel performed, to stirring music, on two 8-inch Roman Rings, with a grace unique in aerialist history.
Shimmering in a blaze of spotlights, "Dainty Miss Leitzel", as she was billed, would make her dramatic entrance into the ring for part two of her act, to the roaring roll of big drums and the clash of symbols, to be pulled aloft for the pinwheel demonstration of stamina she made famous. Near the tent top on a single rope, Lillian hung by one wrist, her hand slipped into a noose of a metal swivel. Swinging her body over her shoulders, she would complete the full circle to the awed counting – aloud of the tense audience. She did this 150 times each show — two a day — and, once she reached 239 such turns, her face alight with laughter, her heavy blond hair breaking away from its pins to ripple about her like bright pennants.
Her one love was Alfredo Codona, top trapeze flier whose grace and fearlessness won him honors equal to her own. The couple fought, loved, and reached the heights of circus startdom. So passionate — and superstitious — was their devotion that neither would witness the other's performance. They were married in 1928.
On Friday, the 13th of February, 1931, in Copenhagen, Denmark, Lillian fell to the arena floor when her rope swivel crystallized and snapped. Her death was one of history's greatest losses to the entire circus world.
Lillian Leitzel was the first and sole inductee elected into the Circus Hall of Fame in 1958.
We at the Circus Hall of Fame wish you a happy journey through the wonderful world of sawdust and spangles.
May all your days be circus days!