Welcome to the International Circus Hall of Fame
The Circus Hall of Fame, rests inside the original American Circus Corporation winter quarters barns and buildings, now designated as a Historical National Landmark. The major construction began in 1922, with more buildings added again in 1925 and then again in 1928. Sadly, fire of various origins consumed many of these buildings over the years.
In the glory years between 1922 and 1929, the American Circus Corporation owned five different circuses with three of them staying here in Peru. There were hundreds of horses and ponies in stables and pastures each winter. Camels, llamas and zebras grazed in the same fields as the horses. Forty plus elephants were here every winter. Springtime found them down in the river frolicking in mud and water. Lions and tigers and bears, called Peru home every winter. The polar bears had a pool to play in. There were monkeys, great apes, reptiles, exotic birds, giraffes and more animals from around the world.
The winter quarters had its own Fire Hydrant system, using water from the river via pumps. They had a hospital, a large mess hall, a company store, a commissary, dormitories for the hired help, blacksmiths, wheelwrights, wagon builders, wood carvers, canvas sewers, wardrobe designers, press agents and railroad agents.
Below is a map to show you how big the winter quarters were in 1929. A building Directory is listed below the map.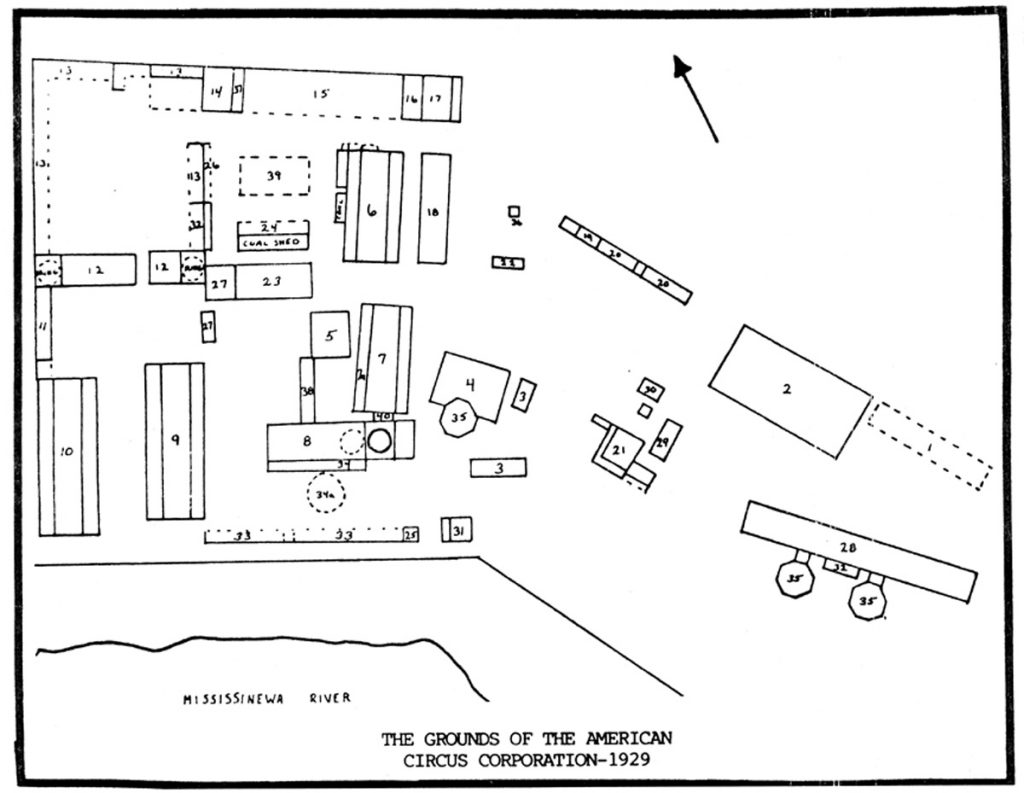 Loose Straw Storage

Wagon Storage

Corn Crib

Sells-Floto Pony Stable

Ostriches and Giraffes

Machine and Wagon Shop ( 2nd floor – canvas )

Elephants and Hippo ( 2nd Floor – hay storage )

Lions and Tigers and Bears ( 2nd floor – harness shop )

Horse stables

Horse Stables

Stables

Pony Stables

Horse Shelters

Auto / Electric Repair Shop

Wagon and baggage storage

Kitchen Storage

Tractor Repair

Side Show Equipment and Seating storage

Heating Plant

Bunk House

Dining Room and Kitchen

Commissary

Paint Shop ( 2nd floor – Club Room, Barber Shop and Hospital )

Lumber and Coal Shed

Pump House

Lumber Storage

Horse Shoeing

Horses

Bunk House

Slaughter House

Office

Dog House and Yard

Animal Acts ( 2nd floor – Prop Storage )

Bear Pens

Bear Training Arena

Incinerator

Wagon Shed

Camel Shed

Pole Shed

Horse Slaughter