Donations and Collections
    The Circus Hall of Fame is a 501c3 Non-Profit Organization dedicated to helping preserve the circus and its rich history. We are often asked if we would accept a donation or eve a collection. The answer is a resounding YES. Donations come in a variety of ways.
Perhaps you would like to donate a monetary amount. A Gift of Cash, Check, money order or endowment from a will should be designated to the Circus Hall of Fame, 3076 East Circus Lane, Peru, Indiana 46970. Upon receipt of your donation, we  will send you a formal Thank you acknowledging the amount given which you can then use as a tax deduction, no matter the amount.
Donations  are also given in the forms of items. Regardless of one, two or a thousand itemms, we are glad to accept your donation. We will fill out a donation form for you and send it to you for your tax deductions, however, by law, we can NOT give you a value of the items donated. The valuation lays on the arms of the donor. Some people don't worry about it and some of the larger collections actually get an appraiser first.
Donations are either brought directly to us, or shipped via the USPS, UPS, FED-EX or Motor Freight. Once received, we will catalogue the donation into the Circus Hall of Fame collection. Depending on what was donated, some items may be put on display immediately to change displays. Some items may need o be repaired and / or restored.
The following poster  was recently donated to the Circus Hall of Fame. It will be sent to a professional restoration service who will linen back it and make the necessary restoration needs to bring this back to it's original appearance, 80 years ago.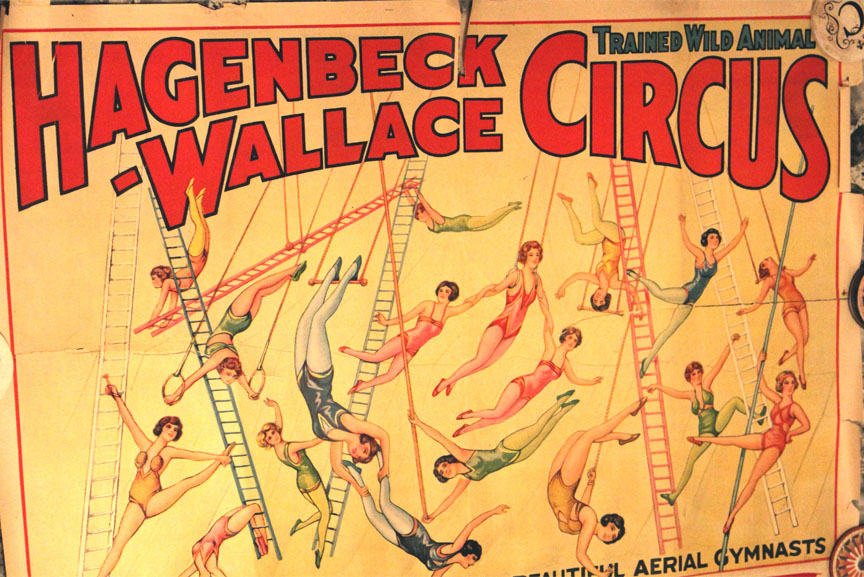 We hope you'll consider donating your items / collection to the
Circus Hall of Fame in Peru, Indiana.