Welcome to the International Circus Hall of Fame.  
The Circus Hall of Fame has GREAT NEWS!
After a couple years of GoFundMe and donations from the faithful, we received a grant this summer that will enable us to have the complete Museum barn roof stripped, repaired and re-shingled. All the components are in place. The roofing materials arrived this morning. The labor will start next Monday and about ten days later, we will have a new roof.
THANK YOU TO EACH AND EVERY ONE OF YOU that Have helped.
   The International Circus Hall of Fame is located in the old circus winter quarters in Peru, Indiana.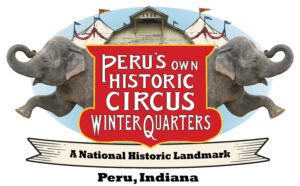 The Peru Winter Quarters is one of 42 National Historic Landmarks in the state of Indiana.  The activity that took place here influenced not only our state. but our nation's history. These quarters are where circuses of the past wintered until they left in the spring for a new circus season.

    Circus Greats are enshrined in the museum joined by other exhibits.  These exhibits include colorful circus posters, wagons and models. One of the models is a miniature replica of the 1934 Hagenbeck Wallace Circus.  This model includes  one of the last great street parades and carried one of the  largest circus menageries.  
    You can enjoy some great videos about the Circus Hall of Fame and the history of the Peru Circus Winter Quarters on our YouTube Channel at CHOF VIDEOS

    The cost of Admission is $5.00 for adults and $2.50 for children ages 6-12.  Ages under 5 are FREE!  All military personnel are FREE with proper ID!
How would like to help repair or re-build an antique circus wagon? You can! We are running a Wagon Campaign to raise funds to repair and restore three different wagons in the Circus Hall of Fame collection. Please consider making a generous donation to helping preserve these historic pieces. Go to our Wagon Restoration page at http://circushalloffame.com/wagon-restorations/